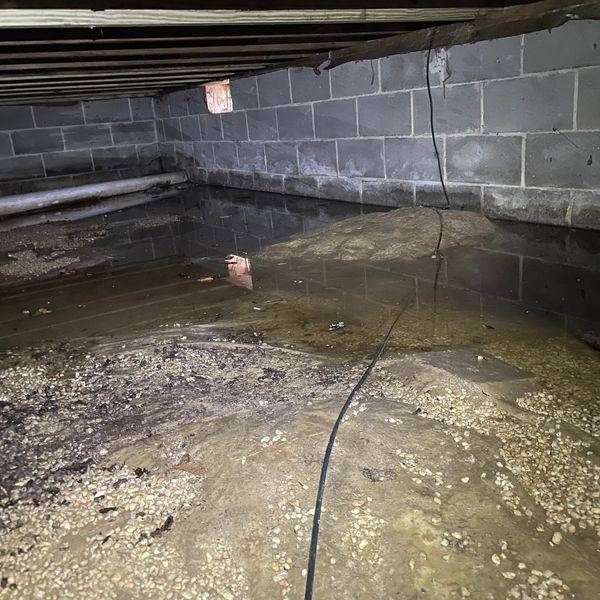 The Chesapeake Bay is a beautiful place to live, but local families know living here also comes with challenges, and one of the biggest is the humidity in spring and summer. Unwanted moisture can wreak havoc in houses throughout our region, specifically in basements and crawl spaces.
Today, we're going to do a deep dive into the dangers of indoor humidity, as well as some of the solutions that exist to help homeowners make their houses drier, healthier, and safer for their families.
4 Ways a Home Is Affected by Humidity
Mold and Mildew Growth: High humidity levels in your basement or crawl space can be a breeding ground for mold and mildew. These fungi thrive in moist conditions, causing health risks and damage to your home's interior.
Possible Structural Damage: Consistent dampness or moisture can eat away and weaken wooden support beams. This compromises the structural integrity of your home over time, and if left unattended for long enough can require expensive repairs to fix.
Musty, Unpleasant Odors: A damp basement or crawl space gives off a distinct musty smell. Unfortunately they often don't stay confined to the bottom areas of your home, and can spread throughout the house, making your living spaces unpleasant to be in.
Unhealthy Indoor Air Quality: Mold spores, thriving in humid indoor conditions, can circulate within your home, triggering allergies and respiratory issues among the people inside.
Healthy Home Solutions for Indoor Humidity Problems
Before you can prevent new mold from growing, you need to remove the mold that already exists. Total Home Performance is a one-stop solution for local homeowners with mold problems—and the first step in any comprehensive mold solution is getting rid of the mold that's currently in your house.
Crawl spaces along the coast of Maryland and Delaware are very common sources of moisture and humidity, as they frequently are full of air leaks and cracks in the foundation that allow water or humid outdoor air to enter inside. Crawl space encapsulation is one of the most effective ways to keep humidity and moisture out of your crawl space, basement, and the rest of your house. This involves air sealing along with installing a moisture barrier along the floor and walls of your crawl space.
In many homes, enough water or moisture is getting into your crawl space or basement that you have frequent standing water issues. One of the solutions here is to install a sump pump and/or french drain in your crawl space or basement floor. By channeling away excess water from the bottom parts of your home, you can keep it drier and healthier.
Humidity issues can be a problem throughout your home, and there are mechanical HVAC solutions that address the issue. Whole home energy recovery ventilators (ERVs) exchange humid indoor air with fresh, filtered outdoor air while also removing humidity. This not only reduces the amount of different contaminants and air pollutants, but does so while minimizing energy loss, saving you money.
These appliances are vital in keeping your crawl space or basement dry. They suck out excess moisture, ensuring the environment stays inhospitable to mold and mildew. Total Home Performance often installs dehumidifiers in crawl spaces and basements as part of our crawl space encapsulation services. We also can install whole home dehumidifiers that live inside your HVAC system and dehumidify the air circulating in your ductwork.
Save up to $7,500 in Rebates with Total Home Performance
Total Home Performance is one of the few local companies that can help homeowners qualify for a variety of rebates, tax credits and financing incentives that make fighting indoor humidity more affordable, including:
Home Performance with ENERGY STAR Rebates: Through our partnership with the Home Performance with ENERGY STAR energy efficiency program, you can save up to $7,500 in rebates on many of the services that help address indoor moisture issues. In fact, we're one of the only contractors near you who qualifies for these rebates on crawl space work!
Federal Tax Credits: Did you know that due to the recently passed Inflation Reduction Act, there are federal tax credits up to $1,200 that you can take advantage of when you make insulation and air sealing upgrades? These tax credits can be combined with the above rebates for even more savings!
At Total Home Performance, we know how important incentives and rebates are to homeowners, and they can often make the difference between not being able to afford these services and being able to schedule work that will improve your home's indoor air quality, make you more comfortable, and save you money on energy bills! Incentives can change and be confusing to navigate, but our team stays up to the date with the latest availability and makes qualifying for and maximizing your savings easy!
Don't learn to live with indoor humidity. Call (410) 822-1390 or contact us online to schedule a healthy home assessment and talk to local whole home moisture, comfort, and energy efficient experts!