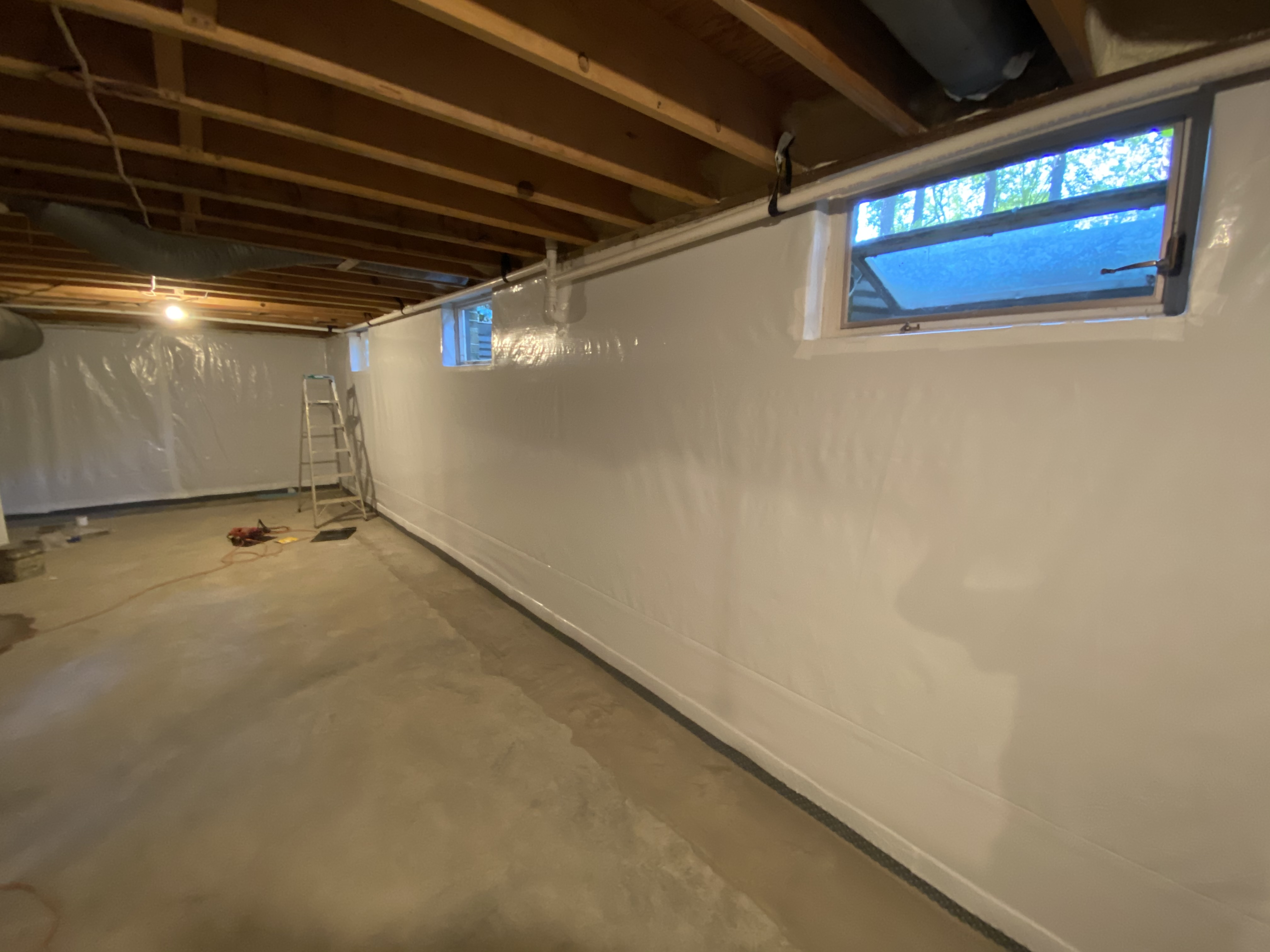 Give your basement the protection it needs to stay dry and avoid mold and moisture issues with basement waterproofing services from Total Home Performance. How will this help your home? In many ways, such as:
Reduce the risk of harmful mold growth

Avoid moisture and high humidity issues

Create a healthier indoor environment

Make your home more comfortable

Lower your heating and cooling costs
Why Your Basement Is So Important
At Total Home Performance, we're well known for our crawl space encapsulation services, but basements—especially unfinished ones—are susceptible to the same risks and home performance issues. You might think of your basement as "out of sight, out of mind," but trust us—what's happening in your basement can have a significant impact on the rest of your home.
Moisture and humidity often start their journey through your home by entering your basement or crawl space, but can easily infiltrate your living spaces, leading to unpleasant odors and unhealthy air issues. Basements are also a common source of energy waste in a home, so whether your heating and cooling costs are on the rise or you're suffering from cold floors on winter mornings, the very bottom of your house is a smart place to start looking for solutions.
Our Basement Waterproofing Process
Basements come in all shapes and sizes on the Eastern Shore and in Anne Arundel County, but no matter what home we're in, we're careful to take our time and follow a building science-approved process for waterproofing your basement.
1. Basement Inspection - Before we get started on fixing the problem, we need to know what the problems are and where they exist! We'll remove your old insulation and address any pest issues or standing water problems before the real encapsulation work begins.
2. Basement Insulation and Air Sealing - Spray foam insulation is a powerful tool for protecting basements because not only is it a superior insulating material, but it also acts as a moisture and air barrier, so you can be sure you're keeping outdoor temperatures, water, and air out of your home.
3. Basement Vapor Barrier Installation - Once we've insulated, we cover your basement walls with a heavy duty polyethylene barrier to further protect against moisture and air infiltration.
4. Basement Dehumidification - If necessary, we'll even install a dehumidifier in your basement, so that you can feel confident that the very bottom of your home is staying at acceptable humidity levels and prohibiting mold growth.
Other Basement Services
Because every basement can be different, our team at Total Home Performance has a wide array of services available so that no matter what the issue is below your feet, we can help you find a solution, including:
Basement insulation removal and replacement

Structural repair (including foundation and pier work as well as floor joists)
Need help with an issue in your basement but don't see it here? Talk to our team today to get the home improvement upgrades you need.
Basement Maintenance Plans for Convenience and Peace of Mind
Looking for a way to spend less time worrying about your Chesapeake Bay area basement and more time on the things that are important to you? By enrolling in our basement maintenance plan, you'll receive regular service calls throughout the year to inspect your basement and make sure that everything is as it should be, from the condition of your insulation to water drainage, humidity levels, pest or rodent infestation, and much more.
Save More on Basement Services with ENERGY STAR Rebates
We know that many Maryland homeowners in Annapolis, Salisbury, and Kent Island suspect (or even outright know) they have an issue with their basement, but delay taking action because they're worried they won't be able to afford expensive home upgrades. At Total Home Performance, not only do our services help pay for themselves moving forward by lowering heating and cooling costs, but we're one of the only local insulation companies near you that can help you qualify for a wide variety of rebates through the Home Performance with ENERGY STAR program, including basement waterproofing, crawl space insulation and encapsulation, attic insulation, and much more. Find out how much you could save by working with our team today.
Schedule a Home Energy Audit Today and Learn More About Your Basement
Not sure if upgrading your basement (or the rest of your house) will make a difference in your energy costs or home comfort? A home energy audit is a great place to start, and one that any trustworthy building science and home performance contractor will recommend as a first step. An audit helps answer questions like, "Why does it cost so much to heat my home?" or "Is my home making me sick?" with advanced technology like blower door tests and infrared thermal imaging.
Audits take the guesswork out of home improvement work, and with your audit results, you can feel confident that you've identified the problem and are ready to move forward with home improvement work.
Get started on the path to an upgraded basement and a healthier, more comfortable home. Call (410) 822-1390 or

contact us

today to learn more about basement waterproofing costs from the local whole home experts.
What Our Customers Are Saying About Us