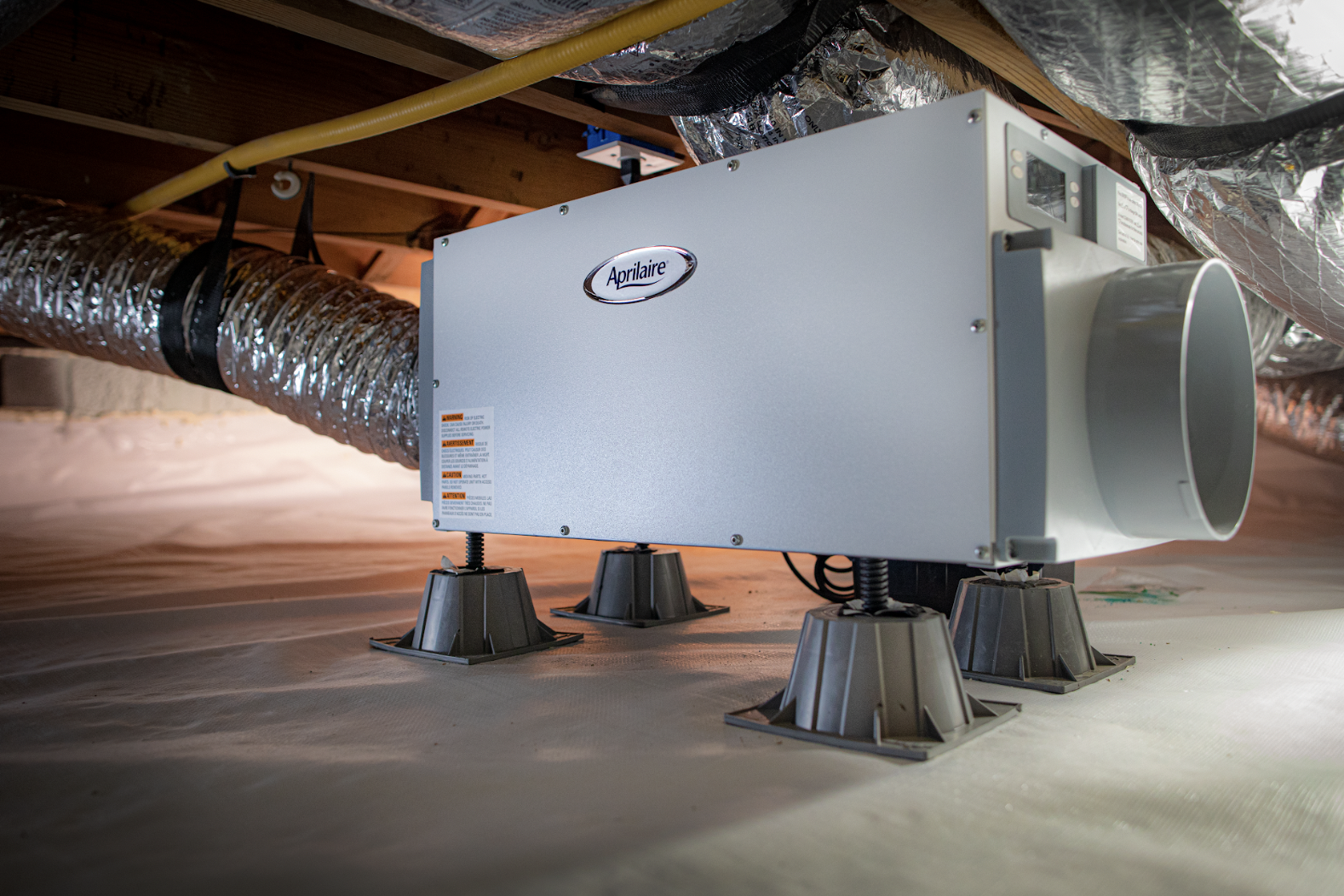 Humidity and moisture are two of the biggest issues facing homeowners on the Eastern Shore, creating uncomfortable living spaces, mold growth, musty odors, and even health problems.

Total Home Performance offers a variety of moisture and humidity solutions, including AprilAire whole home dehumidifier installation to control indoor humidity levels, making your home  healthier and more comfortable, and reducing the risk of mold growth.
CONTACT US TODAY TO FIND A WHOLE HOME HUMIDITY SOLUTION
When Are Whole Home Dehumidifiers Worth It?
Crawl spaces and basements are a common source of humidity and moisture problems in Maryland homes that can make their way into the rest of your house, causing comfort and indoor air quality issues. In many cases, services like installing a dehumidifier during crawl space encapsulation or crawl space waterproofing can address these issues.
But not always—newer houses are built very airtight, which is a benefit when it comes to reducing energy waste, lowering heating and cooling bills, and keeping outdoor air and humidity from entering your house. But airtight homes can allow humidity from indoor sources like cooking and showering to build up, and whole home dehumidifiers are often needed to maintain comfortable and healthy indoor humidity levels.
Whole Home Dehumidifiers Take the Stress Off Your AC
Homeowners often rely on air conditioning to remove humidity from the air, but running them constantly is expensive. Dehumidifiers solve this problem while using a fraction of the electricity. Plus, with less indoor humidity, you can set your thermostat several degrees higher without affecting your comfort, saving you money.
Whole Home Dehumidifiers Keep Your Second Home Dry
If you own a vacation or weekend home on the Eastern Shore and are tired of choosing between running up your AC bills while you're away and returning to a house that smells musty and unpleasant, whole home dehumidifiers are the perfect solution.
How a Whole Home Dehumidifier Works
You may already be familiar with room dehumidifiers or portable indoor dehumidifiers. Whole home dehumidifiers work similarly, but use ductwork to remove humidity from the air throughout your entire home.
Total Home Performance can install a whole home dehumidifier that is either a standalone system with its own separate ductwork, or one that attaches to the existing duct system your heating and cooling equipment uses. A whole home dehumidifier provides many benefits, such as:
Improved indoor air quality

Greater home comfort

Reduced risk of mold and mildew

Fewer unpleasant indoor odors

Less window condensation(And on other surfaces such as ceilings and walls)
At Total Home Performance, we recommend and install AprilAire dehumidifiers for their superior dehumidification and energy efficiency, which exceeds current Department of Energy standards!
Eastern Maryland's Whole Home Dehumidifier Installation Experts
Looking for ways to dehumidify a damp room or even your entire house? Schedule a Moisture and Humidity Assessment with the local experts at Total Home Performance. We can pair you with the right home improvements and healthy home solutions, including basement and crawl space services, insulation and air sealing, and whole home ventilation to keep your home comfortable and energy efficient year-round. 
Struggling to keep your house dry and comfortable? Find out what a whole home dehumidifier costs for your home. Contact us or call (410) 822-1390 today to learn more.
What Our Customers Are Saying About Us