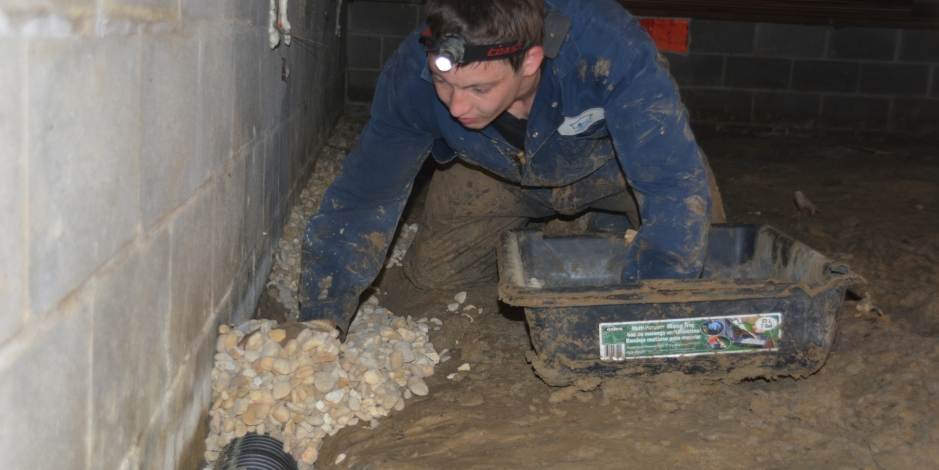 Wondering "do I need a french drain?"? Standing water in your crawl space or basement, or along the foundation, can be a serious problem for Eastern Shore homeowners. Water will lead to high indoor humidity levels and mold growth, which can be a health hazard for you and your family.
French drain installation is one of the simplest and most reliable ways to avoid water from seeping from the soil into your foundation and getting inside your home.
What is a French Drain?
A French drain system is a type of perimeter drain used to reroute water away from your home or other areas of your property where water is collecting. There are a few different kinds of French drains, and they can be installed both on the interior and exterior of your foundation or crawlspace.
The simplest kind of French drain relies on gravity. A trench is dug on a slope, and a perforated 4-inch French drain pipe is laid into the trench, then covered with gravel. Excess water seeps down into the gravel, enters the pipe, and travels down the pipeline to be diverted to another location where it won't cause issues for your home.
If it's not possible for the pipe to be laid on a slope, a sump pump can be installed to move the water from the pipe away from your house.
What Are the Benefits of a French Drain?
Moisture issues and standing water in a crawlspace or basement can be a major headache, but French drains are a popular solution because they:
Keep your basement or crawlspace drier

Are inexpensive to install

Let you choose where water is diverted to

Are largely invisible
Not sure if a French drain is the right solution for your home? Here are some of the most common reasons that homeowners hire Total Home Performance for French drain installation.
Solving Moisture Problems for Eastern Shore Homeowners
Frustrated by a crawlspace or basement that feels like a water magnet? The average cost of a French drain is small compared to the benefits of having a drier, healthier home.
Total Home Performance are the experts that homeowners in Easton, Annapolis, and beyond trust to deal with all kinds of issues with their crawlspaces and basements. We offer everything from crawlspace waterproofing, full crawlspace encapsulation, basement insulation and encapsulations, and more, including interior and exterior French draining for Maryland homes.
Get rid of the water issue in your basement or crawlspace with French drain installation. Call (410) 822-1390 or contact us and tell us more about your home.
Dealing with standing water in your crawlspace?
French drain insulation could be the solution.
What Our Customers Are Saying About Us
Blog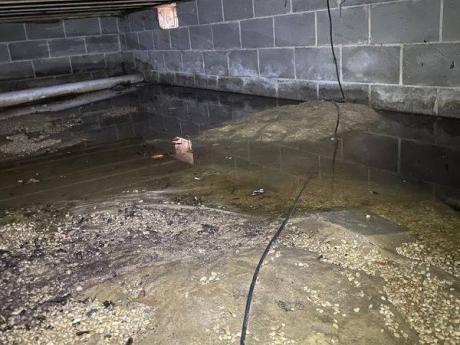 The Chesapeake Bay is a beautiful place to live, but local families know living here also comes with challenges, and one of the biggest is the humidity in spring and summer. Unwanted moisture can wreak havoc in houses throughout our region, specifically in basements and crawl spaces. Today, we're going to do a deep dive into the dangers of indoor…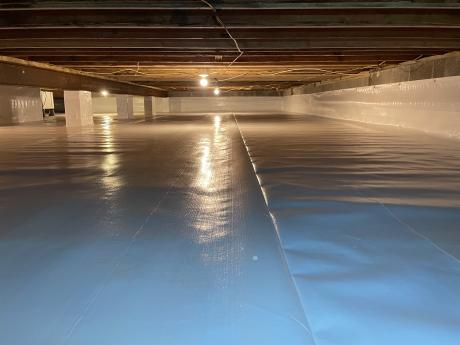 Your crawl space is probably not something you think about very often, but it has a major impact on your home and can even affect its value. Unmaintained crawl spaces can cause serious problems like mold growth and structural damage, which can reduce your home's value and make it harder to sell.  Whether you're thinking about…