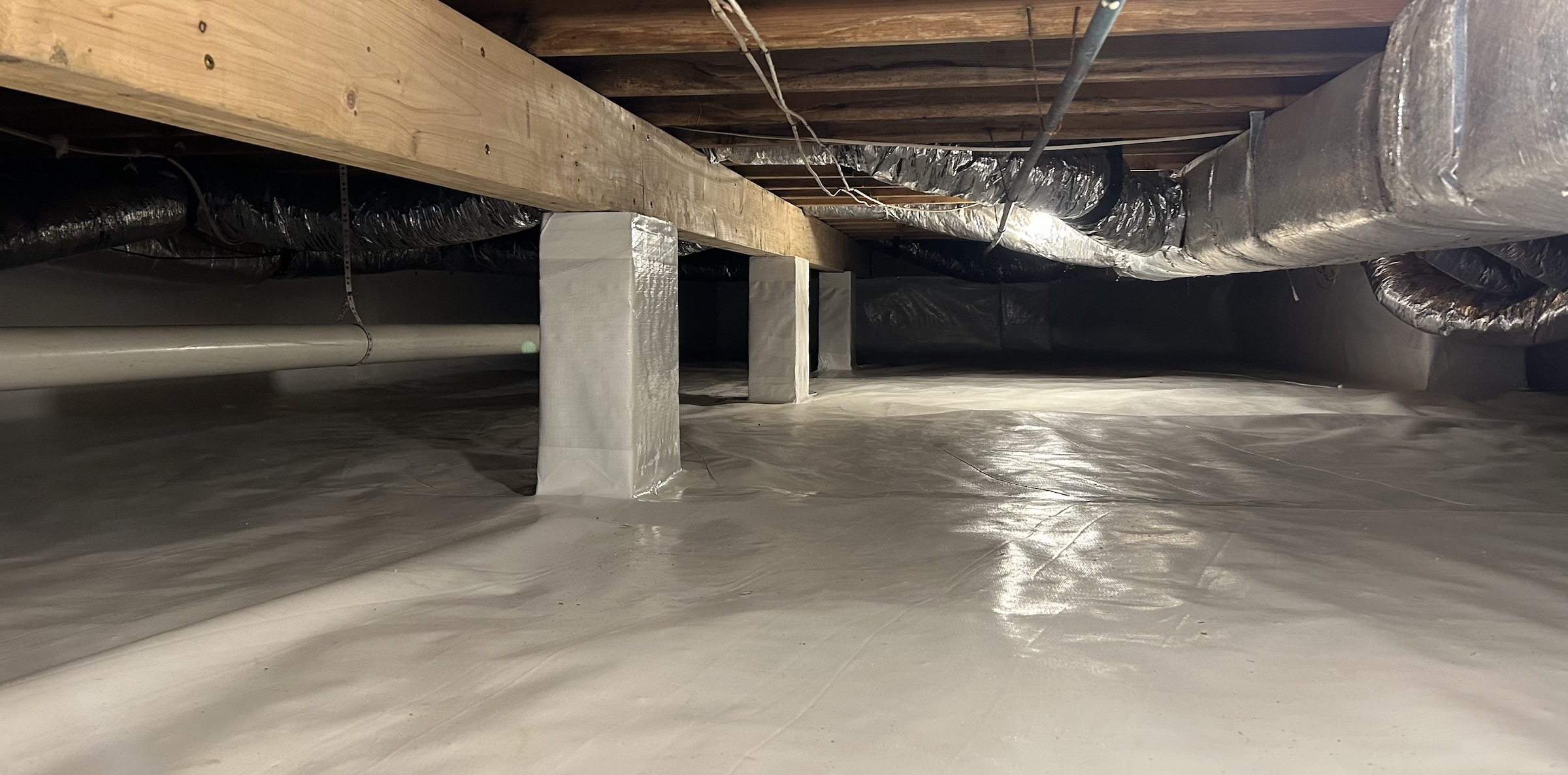 As its name implies, encapsulation contains your crawl space within your home's thermal envelope, conditioning the air inside it and keeping unwanted outside air from entering. Many Chesapeake Bay area crawl spaces house ductwork and plumbing which should be protected from varying outdoor temperatures. Encapsulation provides a consistent atmosphere for ductwork while making your crawl space a safer, healthier, and more energy efficient portion of your home.
Total Home Performance is one of the few Eastern Maryland & Chesapeake Bay area contractors that are both experts with crawl space encapsulation and are a certified Home Performance with ENERGY STAR® (HPwES) contractor. We are able to offer you the REBATES most others in our field are not!
Give us a call at (410) 822-1390 or Contact Us to RESERVE Your Crawl Space Consultation NOW. We make the process super easy for you!

The Crawl Space Encapsulation Process
Every crawl space is treated on a case-by-case basis, but generally, encapsulation can be seen as a four-step process:
1. Inspection
First, the experts at Total Home Performance will begin with a critical look at your current space. We'll remove any old insulation and address any mold, pest, or standing water issues before proceeding.
2. Air Sealing and Crawl Space Insulation
Next, we use spray foam to seal vents, holes, and gaps around ducts and plumbing that let in outside air. Spray foam insulation is also applied to the walls for an airtight seal that both insulates and prevents moisture from entering.
3. Crawl Space Vapor Barrier Installation
A heavy duty polyethylene vapor barrier is then applied to completely cover the crawl space's floor and walls. Sealing tape securely holds sections together, so there are no gaps to let air in or out. Our professional installers will ensure the barrier is safely and securely attached, sealing and taping around obstacles such as piers and pillars.
4. Crawl Space Dehumidifier Installation
Last, a dehumidifier completes the encapsulation process, ensuring the moisture in your crawl space stays at an acceptable, consistent level all year to prevent condensation buildup and inhibit mold growth.
Why Encapsulate Your Crawl Space?
The condition of your crawl space plays a critical part in your home's indoor air quality and comfort. Left unimproved, a crawl space along Maryland's Eastern Shore can leak humidity and odors into your living space—air that's not only unpleasant, but also unhealthy and unsafe. It will also allow heated and cooled air to escape, wasting energy and hiking up utility bills.
The team at Total Home Performance will inspect your crawl space for possible bulk water problems, combustion appliance issues, and pests before we begin making any improvements. If any of these exist, we will help you address them before encapsulation for the safest and most effective solution. Once encapsulated, your crawl space will maintain a more even temperature relative to the ground and your home, controlling humidity and improving indoor air quality while decreasing your energy consumption.
THP: Your Only Source For Home Performance with ENERGY STAR® Rebates For Crawl Space Encapsulations
We are a participating contractor with Home Performance with ENERGY STAR®. Our services qualify for a number of rebates available through Delmarva Power and BGE and we are the ONLY crawl space encapsulation contractor in Eastern Maryland able to offer these rebates. 
If you have any questions about the cost or effectiveness of encapsulating your crawl space, talk to the experts at Total Home Performance! With 2000+ encapsulations under our belts, we have seen it all. Plus, as a participating contractor with Home Performance with ENERGY STAR®, Total Home Performance is able to offer many cost-saving rebates other contractors simply can not. 
With Crawl Space Encapsulation, You Get:
Whole House Dehumidification
Cut down on the amount of humidity and moisture in your home!
Provide proper ventilation for your home so that it can breathe. This helps push moisture and other air particles outside, so your conditioned spaces can remain healthy and fresh.
What Our Customers Are Saying About Us