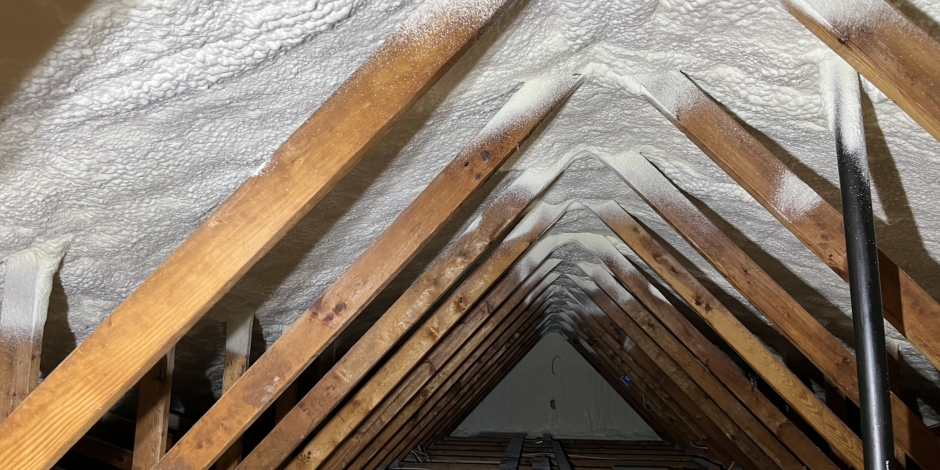 As the seasons change and outdoor temperatures rise, many Maryland homeowners are thinking about their home's energy efficiency and indoor air quality. While there are many factors that contribute to your entire home's energy efficiency and comfort, proper insulation is a critical component. Without it, you can run into problems with high energy bills, poor air quality, and difficulty cooling your home.
It's no surprise, then, that many Eastern Shore homeowners consider making insulation and air sealing upgrades this time of year. And one of the areas that first comes to mind when making such upgrades is the attic. But what insulation material is best? Should homeowners use blown-in or spray foam insulation in the attic? And is it worth adding insulation to your attic? Here, we dig into these questions and how the experts at Total Home Performance can help. 
What Insulation Is Best for My Attic? 
The experts at Total Home Performance know that every home is different and that different materials work best for different projects and goals. There is no one-size-fits-all approach when it comes to attic insulation. Both blown-in insulation and spray foam insulation can be used effectively in attics, and determining which is best depends on the specific home and desired outcomes. Read on to learn more about these insulation materials, how they are different, and the considerations for each. 
Spray Foam Insulation 
Is applied to the rafters, meaning the entire attic space becomes a conditioned part of the home

Can both insulate and air seal at the same time 

Is one of the highest-performing insulation materials on the market

Can be hazardous to install and requires homeowners to be out of their homes for at least 24 hours post-installation 
Blown-In Insulation 
Is applied to the floor of the attic, so the attic space itself remains outside of the home's conditioned space

Is a common solution for attics, particularly in the eves and difficult-to-reach spaces

Both fiberglass insulation and cellulose insulation can be blown in 

Can be more affordable than spray foam attic insulation 
The Experts at Total Home Performance Can Help You Find the Best Insulation Material for Your Home
Whether blown-in or spray foam, Total Home Performance works with homeowners to find the right insulation material for their unique home. With more than a decade of experience serving homeowners across the Eastern Shore, we have proven expertise in installing both blown-in and spray foam insulation in the attic. 
In addition, we help homeowners qualify for rebates and tax credits on their attic insulation upgrades. For example, as a participating contractor with Home Performance with ENERGY STAR® (HPwES), homeowners can save up to $7,500 in rebates on services like attic insulation.   
Ready to upgrade your attic insulation and enjoy the benefits of a more comfortable, healthy, and energy-efficient home? Call (410) 822-1390 or contact us online today.
Ready for increased home comfort and efficiency? Get in touch about attic insulation upgrades today.