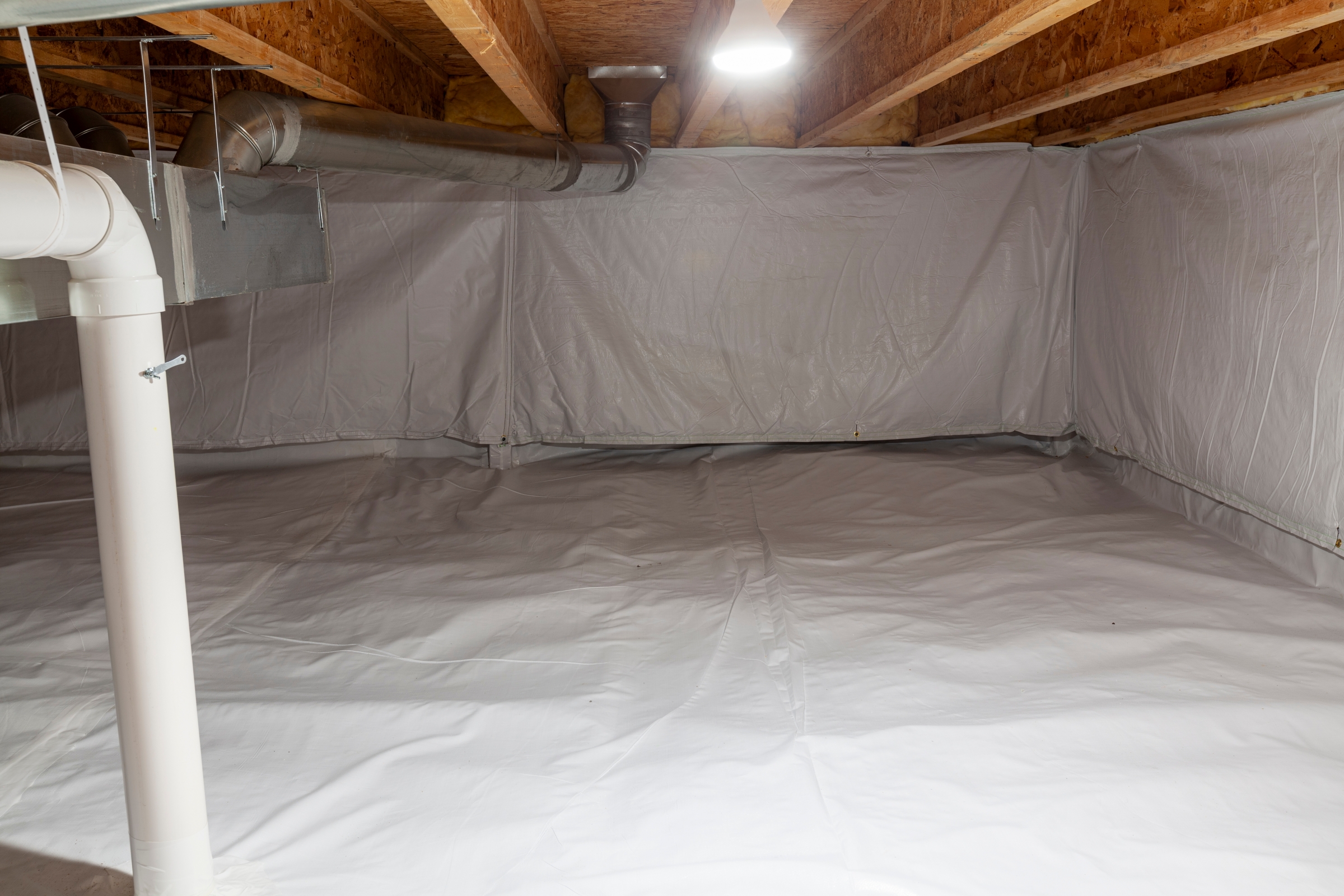 It's early summer in Maryland, and you're just on the other side of all that spring rain on the Eastern Shore. It's finally warming up, but instead of getting outside and enjoying the weather, you're stuck with a musty and damp smell in your home that seems to be coming from your crawl space.
What's going on down underneath your house, and how can you stop condensation in your crawl space? Today we're going to talk about a common sign of water, moisture, and mold problems in Eastern Shore homes, especially around this time of year: a sweating crawl space.
What Causes a Crawl Space to Sweat?
If you've noticed water pooling on the floor of your crawl space, on HVAC ductwork, or the walls of your crawl space are covered in condensation (also known as "the sweats"), you're not alone! Total Home Performance receives many calls from local homeowners who have noticed funky or musty smells in their homes that they've traced back to a damp or wet crawl space. Sometimes, they've even noticed mold growing down there.
It makes sense that the hot, sunny days of early summer can create very humid air, especially after all the spring rain.. If that humidity gets inside your home via your crawl space, it can lead to:
Musty smells throughout your house

Mold growth

Mold rot and structural damage

Unhealthy indoor air quality
How to Get Rid of Moisture Under Your House
The first thing you need to do if you're dealing with moisture problems in your crawl space is determine how bad the problem is. Do you need mold remediation services to remove currently growing mold? Has mold rot weakened the wood in your crawl space and you need structural repair?
Once you've mitigated any current issues, you can work on preventing them from returning. Solutions for a wet or damp crawl space include:
For many homes on the Eastern Shore, water in the crawl space is a constant issue, whether it's because of a high water table or cracks and gaps in your foundation letting groundwater into your home. Waterproofing services like french drain or sump pump installation can help keep water from collecting in your crawl space.
Crawl space encapsulation
An encapsulated crawl space will help your home stay dry year-round and prevent moisture and humidity from getting inside your home. Encapsulating a crawl space is a multi-step process that includes:
Closing up air leaks and insulating your crawl space walls.

Installing a high quality vapor barrier around the crawl space perimeter to keep out moisture.

Installing a dehumidifier to control humidity levels.
Save Money with Crawl Space Services from the Eastern Shore Experts
Crawl space services not only make your home healthier, more comfortable, and more structurally sound, but they can also result in lower energy bills by insulating, air sealing, and reducing opportunities for energy waste in your home.
No matter what the issue in your crawl space is, Total Home Performance offers a service that addresses your specific issues. Plus, we're one of the only contractors on the Eastern Shore that can help you qualify for up to $7,500 in Home Performance with ENERGY STAR rebates on crawl space services.
Find a sweaty crawl space solution for your home with Total Home Performance. Call (410) 822-1390 or contact us today so we can learn more about your home.
Stop your crawl space from sweating.
Talk to the Eastern Shore's crawl space experts today.